LASP starts Plot(ting) research group

The research group Art & Spatial Praxis (LASP) starts a new Plot(ting) research group consisting of 11 new members. They meet on a monthly basis to discuss theoretical and material manifestations that speak to Sylvia Wynter's concept of the plot. They had their first fruitful session on May 30th 2023.
The Plot(ting) research group is formed by Taylor le Melle, G, Giulia Damiani, LOOM, (Radna Rumping, René Boer, and Katía Truijen), Flavia Pinheiro, Mariana Martinez Balvanera, Francisca Khamis Giacoman, Lietje Bauwens, María Mazzanti and Chris Julien. They will join Patricia de Vries (lector of the research group Art & Spatial Praxis) and Liza Prins (coordinator of the research group Art & Spatial Praxis) and meet on a monthly basis to discuss theoretical and material manifestations that speak to Sylvia Wynter's concept of the plot, while focusing on conceptual, artistic and design imaginaries that reframe and reclaim cityscapes.
Each month one member takes the lead and curates the program, by either selecting a text, initiating a visit to an archive, going for a walk, joining a sit-in or initiating visits to exhibitions or sites. All reading is done collectively during the session sitting on a plot-blanket that is currently made by Liza Prins.
María Mazzanti
María Mazzanti (1988/COL) is an Amsterdam-based architect, teacher and writer interested in critical spatial practices and feminisms. María is an editor in Failed Architecture and teaches at the Sandberg Instituut and the Rietveld Academy. Her current research explores the entanglements of water, infrastructure and climatic justice.
Giulia Damiani
Dr Giulia Damiani is an artist, writer, researcher and curator based in Amsterdam working with performance. In 2022 she contributed performance work at institutions such as the HKW Berlin and Centrale Fies in Italy. An article on her latest performance is due to be published in the University of Manchester volume
Gestures: A Body of Work.
Damiani has been teaching performative writing, art and critical theory at institutions including Rietveld Academie, HKU, University of Amsterdam and Goldsmiths (UK). She was a fellow and collaborator for the Ritual and Display edition at If I Can't Dance, I Don't Want to Be Part of Your Revolution, Amsterdam (2019–22), and in 2020 she curated
From the Volcano to the Sea: The Feminist Group Le Nemesiache in
1970s-1980s Naples
at Rongwrong, Amsterdam (
Artforum
;
Metropolis
;
De Witte Raaf).
In 2022 she curated the same show Part II in London (
Art Monthly,
Dazed)
. Her edited book for If I Can't Dance,
Ritual and Display,
was published in 2022. In 2022 Damiani completed her PhD in Art at Goldsmiths, University of London writing about Le Nemesiache from Naples and making new performances inspired by the feminist group's ritual investment in their geomorphic, mythological and urban landscape.
Lietje Bauwens
Lietje Bauwens studied philosophy in Amsterdam. Based in Brussels, she works with Wouter De Raeve under the name '431', initiating artistic research projects such as "the new local" (2018) , the film "WTC A Love Story" (2020) and the upcoming film "WTC A never-ending Love Story". She is co-editor of "Perhaps it is high time for a xeno-architecture to match" (Sternberg Press, 2017) and "Speculative Facts" (Onomatopee, 2021). She writes essays and reviews and is an editor of the literary magazine
nY
. She was a resident at the Jan van Eyck academy in 2019-2020.
Taylor Le Melle
Taylor Le Melle has grown to find biography less cringe through building a practice of describing their activities with present participle phrases ("Taylor is writing") and shedding the practice of categorising states of being ("Taylor is a writer"). Taylor has trained in art history, architectural theory and developmental psychology. From 2017 to 2022 they ran a publishing collective, PSS, through which they have edited and produced several collections of science fantasy, theory and one poetry chapbook with contemporary artists. This year, they are working their own book-length project for which they are making a series of 'draft objects' which both facilitate and result from the production of text.
Taylor is drinking oatstraw to save their last good nerve.
Taylor runs short courses 'writing: sentence structure' and 'writing: about me' for not/nowhere (n/n). Established as a workers' cooperative in 2018 through an collection gift from the now- defunct no-w-here lab, not/nowhere became a workers cooperative and wants to support the actualisation of creative moving image projects by BIPOC artists who, especially those who wish to incorporate analogue technology into their practices.
Mariana Martínez Balvanera
Mariana Martínez Balvanera (1988) is a designer and artist based in The Netherlands and Mexico, working in the realm of community lead urban and rural placemaking projects within the critical spatial practice approach: in the intersection between architecture, participatory art and social design. She studied Interior Architecture in Mexico and graduated from a Masters in Narrative Environments at Central St Martins, London, 2014. Among others, she has collaborated to create the Mediamatic Biotoop, a space for bioarts and future agriculture in Amsterdam; with Estudio Teddy Cruz, designing socio-spatial interventions to rethink post-war housing schemes in London; with Cascoland, executing performatic participation and collaboration tools for the creation of public spaces; and created a cultural exchange platform that questions different notions of identity through food and storytelling, Colectivo Pantitlán. She has been guest lecturer at arts and design universities in Mexico, Germany and The Netherlands. In 2018 she co-founded Cocina Colaboratorio, a transdisciplinary project that regards the kitchen as a co-creative space where people are connected through growing, cooking, tasting, sharing and experimenting, where she leads creative programming aimed at designing transdisciplinary and place-based food systems.
G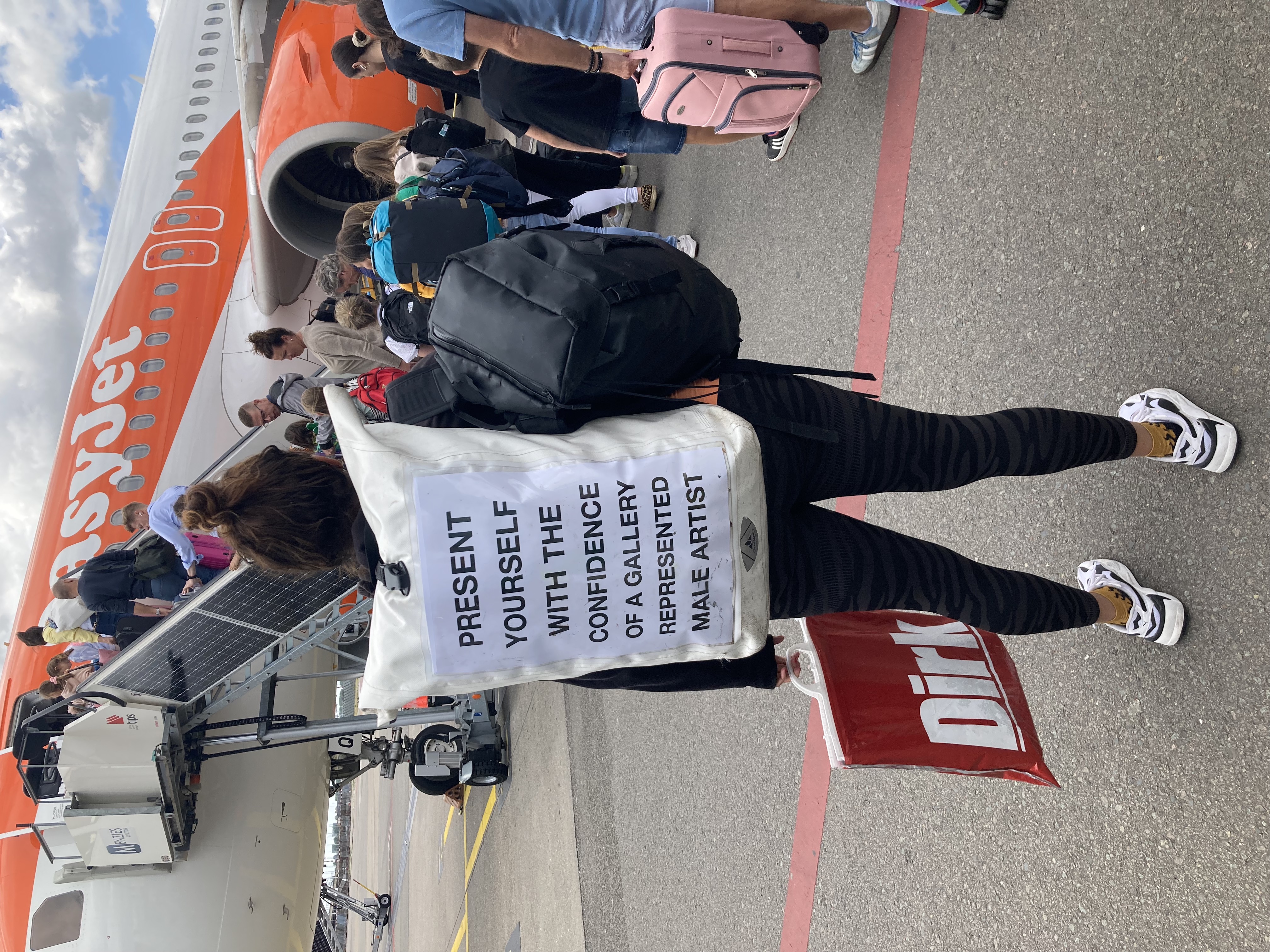 Luton, The Galaxy, The Mall. Mourning, natural death. Graveyards. Urns. Trinkets. Raves. Dancefloors.The 'Anti Bio'. 'Non performers', 'Non Dancers' everything that we are told we are not good at or need a qualification for. Humour x 10000000000000000000000000 Power Dynamics. FREE ART SCHOOLS. FUNDING 4 ALL Sculptures made in a day Care as a necessary tool Anthropology. The internet (beware 2nd hand information and the vacuous). Some Comedians. Performance as a survival technique. Embarrassing myself Bass players.Barbados.Semantics. Shouting in the countryside. Dancing instead of talking. My Mother and Father (RIP). Sci Fi as a survival technique. Britishness. Mental Health.Grinding my hips as slow as I can (Sam I love you).Sub woofers. Dressing up as other things.Joy.'Non-Artists'. Friends above the age of 70yrs old.Exciting poetry. My forever ongoing Death Doulaship training (Be weary of it ever being done) Keeping naval gazing in check.
Francisca Khamis Giacoman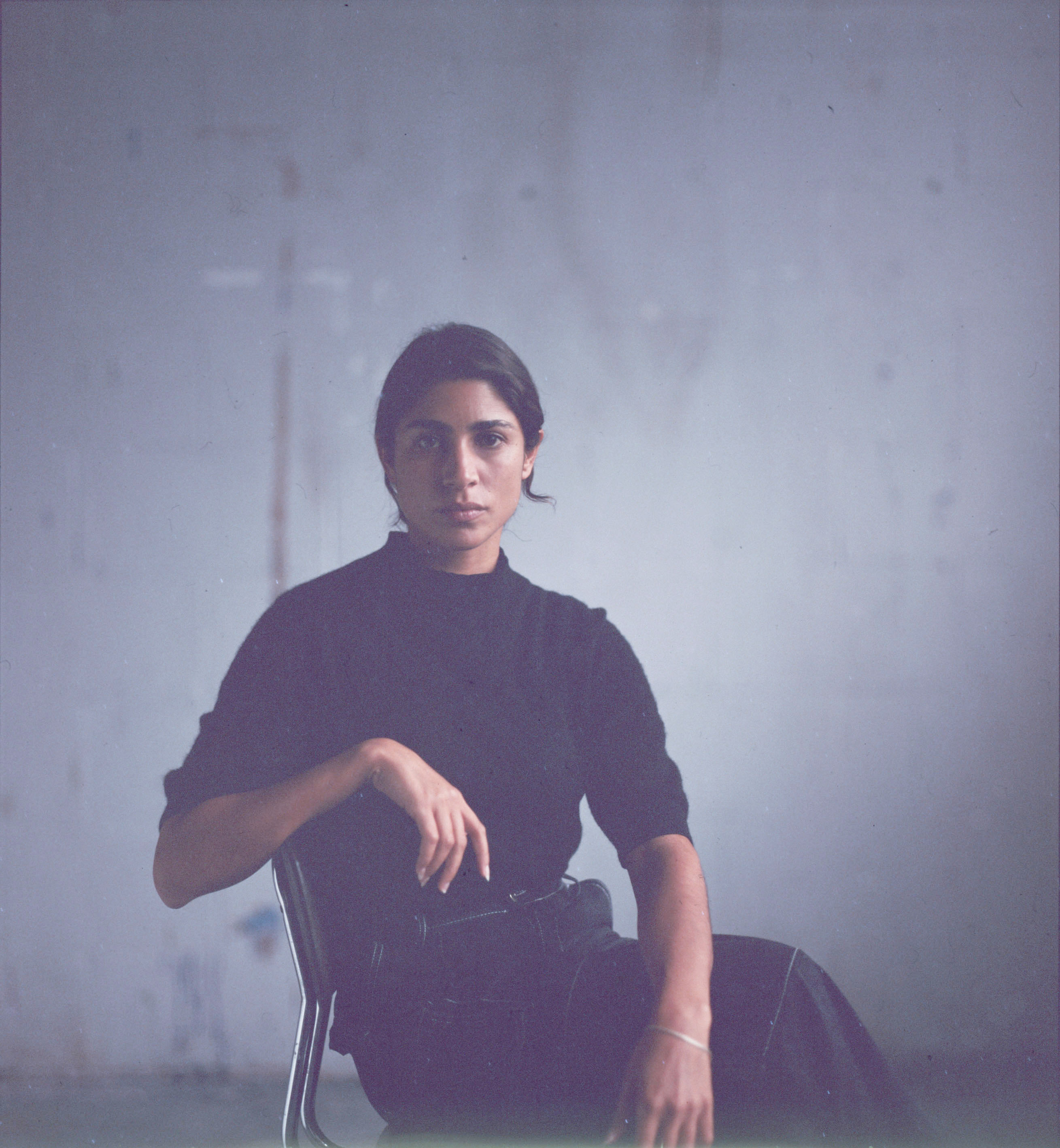 Photo: Carmen Gray

Francisca Khamis Giacoman is an artist and designer based in Amsterdam. Coming from the Palestinian diaspora in Chile, her recent works deal with fragmented diasporic memories. In performances and installations, she recollects stories of migration and unfolds them at the boundaries of fiction and materiality. Her video and sound works use family archives to focus on the solidification of in-between identities.
Khamis Giacoman has exhibited her works at various places including Biblioteka in London, ExtraCiy, Antwerp; Rozenstraat, Amsterdam; Het Nieuwe Instituut, Rotterdam; Kunstverein, Amsterdam; PuntWG, Amsterdam; Stroom, Den Haag. She was recently an artist in residence at BAU in Amsterdam. Along with this, she co-founded Espacio Estamos Bien, an art cooperative based in Amsterdam that organises gatherings, publications, and exhibitions. Francisca is currently in charge of the development of a support initiative for non-European students at the Sandberg Instituut and Gerrit Rietveld Academie.
Flavia Pinheiro
Flavia Pinheiro is a choreographer, performer and a researcher from Brazil currently based in Amsterdam. Her research foregrounds networks of resilience and resistance to systems of knowledge by fabulative speculations around Science and Technologies. Her artistic practice in an ongoing attempt to create breathing and vital conditions; in an unstoppable dance she creates improbable exchanges with the nonhumans such as bacterias, plants, birds, antelopes and ghosts. She focuses in states of survival and refusal of captivity by proposing a radical ontological turn. She navigates in different medias (photography, video, performance, urban interventions, installation, sound, writing) to underline how diversity and transversality can contribute to (un)learning colonial pedagogies
She graduated at DAS Choreography Master program, University of Amsterdam in 2022. Their Master's research was carried out in Benin with the fellowship, AHK Internationalization Fund and with the Talent Grant/ AHK. She is currently part of DAS Third research program developing M.I.M.O.S.A that intends to dismantle hegemonies of thoughts and species in an expanded choreographic and somatic approach.
In 2021 she was granted by Performing Arts Fund NL. Her graduation piece
7 Abiku Solos for 11 bacteria falling through
was supported by Aart Janszen Fund and ID Lab and it was awarded with Andre Veltkamp Beurs Grant. With many others she developed South Boom Boom Platform that includes a publication supported by ATD, Platform 2025 and DAS Research and a series of lectures.
In 2022 Flavia Pinheiro was awarded the 3Package Deal fund for International Talents by AFK for the 'Engaged Art' coalition.
Loom
Loom is a practice for cultural transformation. Powered by dialogue and imagination, Loom provides reflections, propositions, rehearsals, and real-world alternatives that bring people together around urgent issues. Loom develops open, experimental formats to help find and unlock the transformative potential of people, places and organisations.
Building on years of experience and a wide-ranging expertise, Loom creates unexpected ties between independent initiatives and institutions, weaving together people and practices with roots in different worlds.
Loom facilitates conversations, conducts research, curates exhibitions and public programmes, publishes books, consults organisations and develops shared learning experiences. To document and disseminate our work, Loom employs methodologies such as collective editing and polyvocal archiving to generate publications that spark conversation, give guidance and enable strategic, informed and long-term decision-making.
Loom is grounded in Amsterdam and Rotterdam, and links with an international network in the arts, culture, design, public policy, media and heritage, bringing together local situations and global issues.
Loom is Katía Truijen, Mark Minkjan, Michiel van Iersel, Radna Rumping and René Boer working in close collaboration with an evolving ecosystem of talented and established practitioners.
Chris Julien



Chris Julien mixes research and practice in the fields of public innovation, ecology and culture, with a focus on epistemology and governance. He is currently pursuing a PhD at Utrecht university that combines new materialisms with decolonial and ecological thought to constitute a field of so-called 'ecological governance' supervised by Iris van der Tuin. Furthermore, he is active in, and a spokesperson for, Extinction Rebellion and as an independent practitioner focusing on urban ecology and regenerative cultures, besides siting on various boards and committees. He holds cum laude masters degrees in Conflict Studies & Human Rights and in Cultural Analysis.
.